BELIEF PATTERN RESTRUCTURING
with ED SPINA
Jan 11 – 15, 2007
Jan 11 (Thu) 7:15 pm – 8:30 pm
Free Introductory Lecture: Change Your Beliefs – Change Your Life
Do you want to know how beliefs affect your life and why it's so difficult to change your beliefs ? Your beliefs have a greater influence on your life than any other factor, even more than your DNA, your parents or your environment!

In this free intro, Ed will demonstrate the mystic technique of Mental Alchemy to show how you can change your beliefs to eliminate pain and produce immediate beneficial results. He will lead the group in an Exercise to Release Limiting Beliefs.

He will also have his book Mystic Warrior available for book signing.
Jan 13 (Sat) 2:30 pm – 6 pm
CHANGE YOUR BELIEFS - CHANGE YOUR LIFE HK$497
Learn how beliefs affect your life, why they are so difficult to change and how you can use the mystic technique of Mental Alchemy to improve your life.

Ed will describe how you can identify your own unconscious beliefs and outline steps you can take to minimize any which are not helping you to move forward. He will then lead group members through an energy healing technique known as Belief Pattern Restructuring, which produces deeper and more lasting results than simple affirmations.

Jan 14 (Sun) 2:30 pm – 6 pm
ESOTERIC ENERGY MASTERY HK$497
Learn how to you clear your energy field, open your heart and activate your psychic centers using energy clearing and energy boosting techniques derived from the mystic masters, advanced souls, and various energy healers. Everyone will receive an infusion of higher dimensional energies that will leave you feeling free and energized.
In this workshop, Ed will also demonstrate an energy healing technique known as Take Back Your Power, in which an individual forgives and returns any energies he or she may have taken from another and then energetically requests the other individual to do the same. The other individual typically might be an ex-spouse, lover, parent or child and would not be physically present. This exercise produces substantial shifts in energy.
PRIVATE SESSION – BELIEF PATTERN RESTRUCTURING or TAKE BACK YOUR POWER EXERCISES
Exchange abundance: HK$900 per 1-hr session
About Ed Spina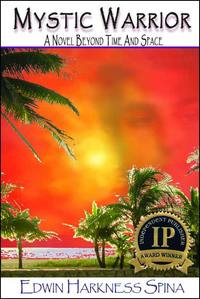 Edwin Harkness Spina is an author, speaker and teacher. His first book, Mystic Warrior: A Novel Beyond Time and Space won the 2005 Independent Publisher Book Award for Visionary Fiction. Mystic Warrior is a contemporary thriller which reads like The DaVinci Code meets the X-Files. It is set in a world where psychic abilities and spiritual powers are used (and abused) by ordinary people and those at the highest levels of government and world leadership.

Prior to shifting his focus to writing and speaking about mystical topics, Ed was a venture capitalist, entrepreneur, software designer and business consultant. Ed has a MBA from the University of Chicago and a BSE from Tufts University.
To join the free introductory lecture, join the workshop or book a private session with Ed Spina, please call Ruby @ Reflections on 2504 1333 to reserve your space.